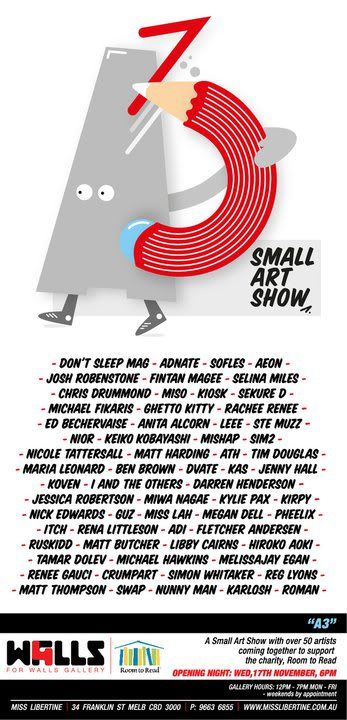 As promised here is a sneak peek at the piece I've put in for the "A3 Small Art Show" titled "Rabbit Tales" (Spray 1 of 10)
It's the first of my limited edition stencils. This means that if your into cute bunnies doing cute things then you'll want to be quick to get your hands on an original. This piece features my very own honey bunny Nickel.
I look forward to seeing you for drinks at the opening!
Melbourne
For Walls Gallery
Miss Libertine
34 Franklin Street, Melbourne
Exhibition Opening: Wednesday 17 November, 6pm - 8pm
Exhibition: Wednesday 17 November - Wednesday 10 December
Website:
www.misslibertine.com.au
or
www.smallartshow.com
Facebook Event:
www.facebook.com/event.php?eid=157318337632159&index=1